IT Support | AUSYS
Three types of agreements define the "depth" of our relationship with the client:
The amount of a monthly fee for our services derives from a combination of the above mentioned factors.
It is also directly related to the size of a client, and the complexity of its IT infrastructure.
We will be happy to calculate the price for you according to our internal methodology. This requires a personal consultation and we will be pleased to come to your place.
Illustrated service intervention: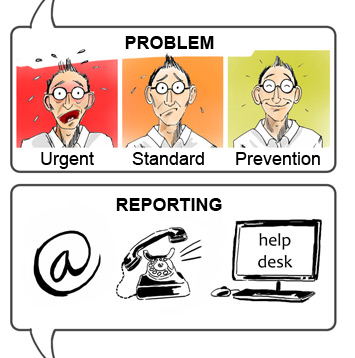 A closed cycle of our support:
Proposal
Our clients have become accustomed to turn to us with confidence whenever they have an issue in the IT field. They rely on our twenty-year experience and know our concern to always suggest them a solution that is optimal for them – in terms of benefits, performance, costs, and reliability.
Delivery
We also deliver and install everything the clients had designed. It may "just" be building a new custom-made computer and its connection, or an implementation of a corporate data security system so that they cannot be threatened, lost or leaked.
Service
Our concept of service is not just fixing everything that breaks down. From the beginning of our cooperation with a new client we start on our own initiative to work on detecting and removing weaknesses in its IT infrastructure and gradual introduction of the standards that enhance its reliability.
Support
Information technologies penetrate into all areas of management and administration. We support our clients in all decision-making that affects IT. We help them with any problems which arise during various economic and information work.